NetApp Insight 2018 Recap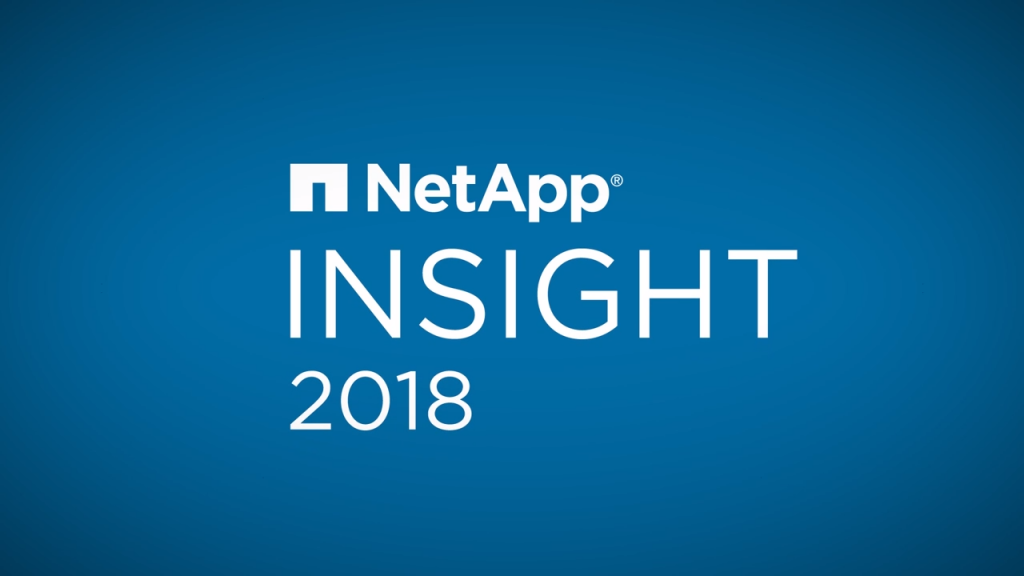 Another Insight has come and gone, with this year being the largest turnout to date. Along with the record turnout came a change to the overall structure and sequencing of events throughout the course of the week. Traditionally, Insight would usually run from Monday – Thursday (or Sunday, if you had mandatory engagements to attend, like myself) with Monday usually being a travel day for most and then there being some partner-centric and executive level sessions in the morning and afternoon. This year, attendees were able to get a jump start on things such as certification exams and hands-on lab sessions before getting deep into the weeds with technical sessions mid-morning.
The biggest change, however, came with there being only two days of General Sessions vs. the former three that previous Insight attendees had been accustomed to. Typically, there would be an opening General Session Tuesday afternoon, a subsequent General Session Wednesday afternoon, then a Closing Session Thursday morning before many would begin their trek home. While it was certainly interesting to watch how this change played out, it didn't inhibit NetApp from unleashing a plethora of exciting, new announcements across the entirety of the Data Fabric.
Announcements this year included a well-balanced focus on both enhancements to proven, existing components of the Data Fabric as well as completely new products and services altogether. Subsequent posts will follow, starting next week, to cover each of the announcements in deeper detail.

Data Fabric
Since launching the Data Fabric back at Insight 2013, NetApp has continually evolved and refined the messaging in want has become the core foundation of the overall Data Fabric story. In what started off as a rather broad – but tightly integrated – "tool belt" of various products (since, you know, not everything is a nail) slowly morphed into this vision for what customers were trying to understand and leverage while riding the massive wave of cloud adoption. Then, it started to become even more clear, in that the focus should be about what the expectations were around customer outcomes for varying use-cases.
And even now, several years after the Data Fabric was born, NetApp shows how easy it is to remain true to the core messaging of the Data Fabric as a whole, but at the same time, being able to effortlessly guide every part of it to stay in lock-step with both the rapidly changing technology landscape and customer's desired outcomes. And all without mentioning a single product or set of products that would traditionally be purpose-built for specific use-cases. What NetApp has been able to do is to provide customers with seamless functionality in their offerings regardless of where they may be as part of their Cloud adoption strategy. By providing solutions to facilitate replication between on-premise environments and public cloud environments, and now taking that a step further and focusing on the intelligent automation of that same dataset, customers can spend less time worrying about how data is getting from Point A to Point B, where Point A and Point B really are, and if either Point A or Point B may just suffer an unplanned outage today. Instead, customers can maintain focus on the important aspect – their data – without worry of unforeseen distractions.
All this while enabling data pipelines to flow throughout entire organizations, across the Data Fabric, giving way to enabling customers to have a razor-sharp, competitive edge as more and more begin to adopt deep learning and AI.
The result is the most simplistic, yet elegant iteration of the NetApp Data Fabric…
Inspire. Build. Modernize.
We'll dive deeper into that messaging over a series of future posts, but for now, you can view the Day 2 and Day 3 Keynote sessions below.

Tuesday Keynote (Day 2)

Wednesday Keynote (Day 3)
ONTAP 9.5
A plethora of new features have been announced for the upcoming ONTAP 9.5 release, slated to be available for download in its initial RC variant in the coming weeks, building on the revamped release cycles of two major versions per the calendar year. ONTAP 9.5 will be the latest long-term support release and will include features that range from familiar, to new and exciting, to "holy crap, I can't wait to see how this sets up the next release".
This will definitely be one of the more technically-oriented deeper dive blogs that will follow, however, to rattle off just a couple of the upcoming features…
SnapMirror Synchronous (SM-S)

Yes, synchronous SnapMirror is here! Getting even closer to zero RPO for Tier 0 workloads.

Enhanced Network Stack

Leverage Layer 3 routing via BGP for expanded multi-site deployment scenarios.

NetApp Data Availability Services (NDAS)

Backup-to-Backup-to-Cloud (S3)

FabricPools & FlexGroups

Yep. Both features. Working together.
NetApp HCI
It's actually pretty mind-blowing to think that NetApp HCI was launched around this time just last year. Mainly due to the rate at which improvements and enhancements have been made to the HCI Software Stack, and as such, the NetApp Deployment Engine (NDE). The Cloud Infrastructure Business Unit (CIBU) has undoubtedly set a new standard within NetApp as to how quickly any issues are resolved, as well as incorporating features that keep NetApp HCI well ahead of the traditional hyper-converged Infrastructure market. This, along with streamlined sales campaigns related to targeted HCI bundles, has allowed for a strong adoption of the platform and is reinforcing the message that this truly is next-generation HCI; that is: It's no longer about hyper-converged infrastructure, it's about hybrid cloud infrastructure!
Updates to the platform that include newer Compute and Storage nodes based on the Intel Skylake architecture, additional node models for entry-level use-cases, and nodes with dedicated NVIDIA GPUs are just a few of the announcements revealed last week in Las Vegas.
Oh…and there's a simplified option for networking, too.
Cloud Data Services
Now, more than ever, NetApp is flexing is hybrid cloud muscle and driving innovation to unprecedented levels and in expanding their strategic partnerships with the likes of AWS, Azure and Google.
As many customers look to tip-toe even deeper into an established cloud adoption strategy, increasing concerns around data security, data privacy & compliance, tiering of data with potential egress impact, and even trying to juggle all of that across more than one provider via a multi-cloud approach. NetApp is placing emphasis on new Cloud First services that help address these concerns (and others) throughout the customer journey into the public cloud.
NetApp will be expanding their Azure presence via Azure NetApp Files and its AWS & GPC presence via Cloud Volumes Services. Don't forget, there's also Cloud Volumes ONTAP, which is formerly the product known as ONTAP Cloud.
Perhaps one of the hottest things to learn more about this year, however, was how to leverage NetApp's most recent acquisition of StackPointCloud to offer up a complete, multi-cloud Kubernetes-as-a-Service platform – an industry first.
This all gets tied together with the launch of two, brand new Hybrid Cloud certification tracks: NetApp Hybrid Cloud Administrator (NS0-300) and NetApp Hybrid Cloud Architect (NS0-600).
And TONS more!
Check back starting next week as we delve deeper into the complete list of exciting announcements from NetApp Insight 2018 and give each of them adequate focus via individual and multi-part series posts.